I hope you all had a wonderful weekend! We had a GREAT time. Here are some of the things we got up to:
We decorated.........(I couldn't get ONE good shot of the boys together though).......
We bought Channing and Sully "Sock Monkeys" for their special decoration this year. Sully LOVED putting it on the tree......Channing on the other hand cried and didn't want his on the tree........he eventually came around and it's sitting on the tree :-)
We painted candy canes (using peppermint scented paint......mmmmmmmm - it smells good enough to eat!). The picture at the top of the post is the finished product. We talked a little bit about candy canes and the legend behind them....I have the book but I think Channing is a bit too young for it yet.
I found this candy cane garland at the Dollar Tree.....broke off the candy canes and we did a whole heap of things............in this picture, I put a pile of them on the table and we played a "pick up sticks" kind of game........Channing LOVED this.......I know we'll be doing this again in the next few days.
We made some candy cane letters.....
I made some candy cane number tags and stuck them on little red cups. Channing had to hook the correct amount of candy canes on the side (not as easy as it looks- he also had to work out that the candy canes needed to be evenly spread so the cup wouldn't tip).
We read "Mortimer's Christmas Manger"........I just got it today! It is definitely up there with my all time favorite "The Christmas Lizard" (which we save for Christmas Eve).........if you haven't read this one, you should definitely try and borrow a copy from someone. It is a darling story about a little mouse who makes a home in a nativity set only to discover who'd bed he's taken.......
After we read the story, we made these cute little guys to place on the table at everyone plate. The candy canes are "real" for this after dinner treat!
I gave him a little basket to carry them in (we had 15 of them).....and he was SO PROUD........the boys all loved them too.
I'm gearing up for more fun tomorrow :-) I can't wait to see what you've been up to!
I'll be linking this to: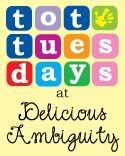 ABC and 123
StART